Saturday, November 8, 2008
Hello everyone :) I am going to try to figure out how to work this site so we can use it as our family site and stop using babysites as it has a fee with it and Blogger is free!
I am now working for Wood Co Job and Family Services and am in training there to do Eligibility for assistance (Medicaid, Food Stamps, Cash, etc;). It is going well and I think it will be a great place to work. Mason is staying with my friend Erica during the day as she runs offers daycare in her home. He is doing REALLY well there and loves going there (and quite often gets mad when it's time to leave at the end of the day!). It's been a harder transition for me and I miss him a lot during the day.
I am now 24 weeks pregnant and we have been told this baby is a GIRL :) Very excited! It's been a very easy pregnancy so far, with my only recent complaint being back pain from sitting at a computer all day! It's getting better though. Next doc appt. is Nov. 20th for a regular check up and Glucose Test (screening for Gestational Diabetes). Early December we should get another ultra sounds so we are looking forward to that!
Halloween was a lot of fun, Mason was a Dinosaur and went Trick or Treating in Gibsonburg with us and Aunt Sara and cousin Tyler (who was also a dinosaur!). We also went to Sauder Village for Fall on the Farm with Stacy and her girls, Pumpkin Patch with Melisa, Ryan, and their girls, Countrylane Tree Farms (where Matt makes his corn maze), Carved Pumpkins, and went to the Groweg's annual Fall Party. Check out the Pix if you get a chance.
Thanksgiving is creeping up on us and we can't wait to see both families and enjoy some great food!
I will try to update this every week or two and load pix on here as well. I hope everyone is doing well and is ready for the cold weather!
Love,
Steph
Posted by

steph72305
at 12:09 PM
No comments:

Saturday, September 6, 2008
Well everyone else was doing it Ma!!! Seriously apparently the whole world does this blogging "thing" except me. So I thought I would give it a try. Not sure about it so far, I am a control freak and I don't think there are enough items I can CONTROL haha. My lil cousin has the nicest site though (helps that she takes fantastic photos for it and they travel to interesting places!) so she inspired me to give it a try.
Quick sum up: Matt is still working in Gburg selling super expensive technology to farmers and I am LOOKING for employment. So Mason (who is 2 now) and I are at home together for the time being. We are also expecting our second child who is due in February and we should find out (no modesty baby, show us what ya got!) the baby's gender sometime next month. Philip and Nikki get married next month and then BAM the holidays will be here!
Here was baby when she/he was just a bean at about 8 weeks. I am now 15 weeks a long!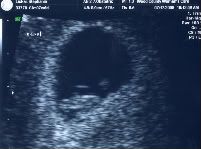 Posted by

steph72305
at 6:26 AM
No comments: